What is Available
Home to over 150 universities, the UK higher education system offers a wide range of entry points and welcomes everyone motivated to work for their success.
Regardless of your educational or professional backgrounds, there is always a study option in the UK to match your abilities, interests, and goals.
Start with a Foundation Year if your qualifications need improvement, choose Undergraduate studies if you did well in high school, or get a Masters degree to boost your CV.
With a suitable residence status, you could also qualify for UK government-backed student loans covering your study and living costs.
Benefits of Studying in the UK
Studying in the UK provides a unique chance for better job opportunities, new skills development, networking, and access to resources.
British universities deliver the highest quality of teaching, research and business cooperation.
The UK's welcoming student community is open-minded, friendly, and eager to connect, creating lasting memories and meaningful relationships.
Better Jobs

Studies in the UK can lead to top positions and higher pay.

Expert skills

Become skilled in your field and valuable to employers.

Teamwork & Communication

Work well with others and share ideas effectively.

Think & Solve Problems

Learn to think on your own and find great solutions.

Flexibility & Confidence

Get better at dealing with new situations and changes.

Resources & Support

Access helpful tools and assistance when needed.
Start with less-than-perfect qualifications
UK universities welcome students with different qualifications, making studying in the UK accessible.
Many of them offer pre-study programs, such as 'Year Zero' or 'Pre-Masters' to improve your English language and study skills.
The goal is to help you get started, gain confidence, improve over time and achieve great results.
Check if you qualify
Application Support
Get a full package of application support from UniEdu to maximise your chances for admission.
UniEdu is a British Council certified organisation, a registered UCAS centre and a long-term partner of numerous universities in the UK.
Since 2013, we have helped over 5000 students secure their places at British universities.
Our Free Package Includes:
Access to Application Portal

Strategic Educational Advice

Help with University and Course Selection

Support With Application Forms

Personal Statement Reviews

Help With Obtaining References

Student Finance and Visa Application

Instant Messenger Support

Deadlines and Application Reminders

CV Review and more...
Start Working on Your Application Today
Take the first step towards your studies in the UK with a quick and simple registration in the application portal.
Get instant access to our application tools and personalised support free of charge.
Our UK University Application Tools
In order to optimise your application and boost your chances of admission to British Universities, we have developed a set of dedicated application tools.
Can-I-Apply
Check which level of studies, university and financial support you can apply for.
QuickApply
Easily apply to Foundation Year (Zero) in as little as 5 minutes.
UCAS Apply
Make your UCAS application to Undergraduate studies easier and organised.
MasterApply
Organise your all your Master's applications in one place, with our MasterApply tool.
PostApply
Get PostApply package support after sending the application. Secure your place at the university, get help with your Student Finance, Visa, CV, accommodation and more. UniEdu Applicants get this package worth £595 for free.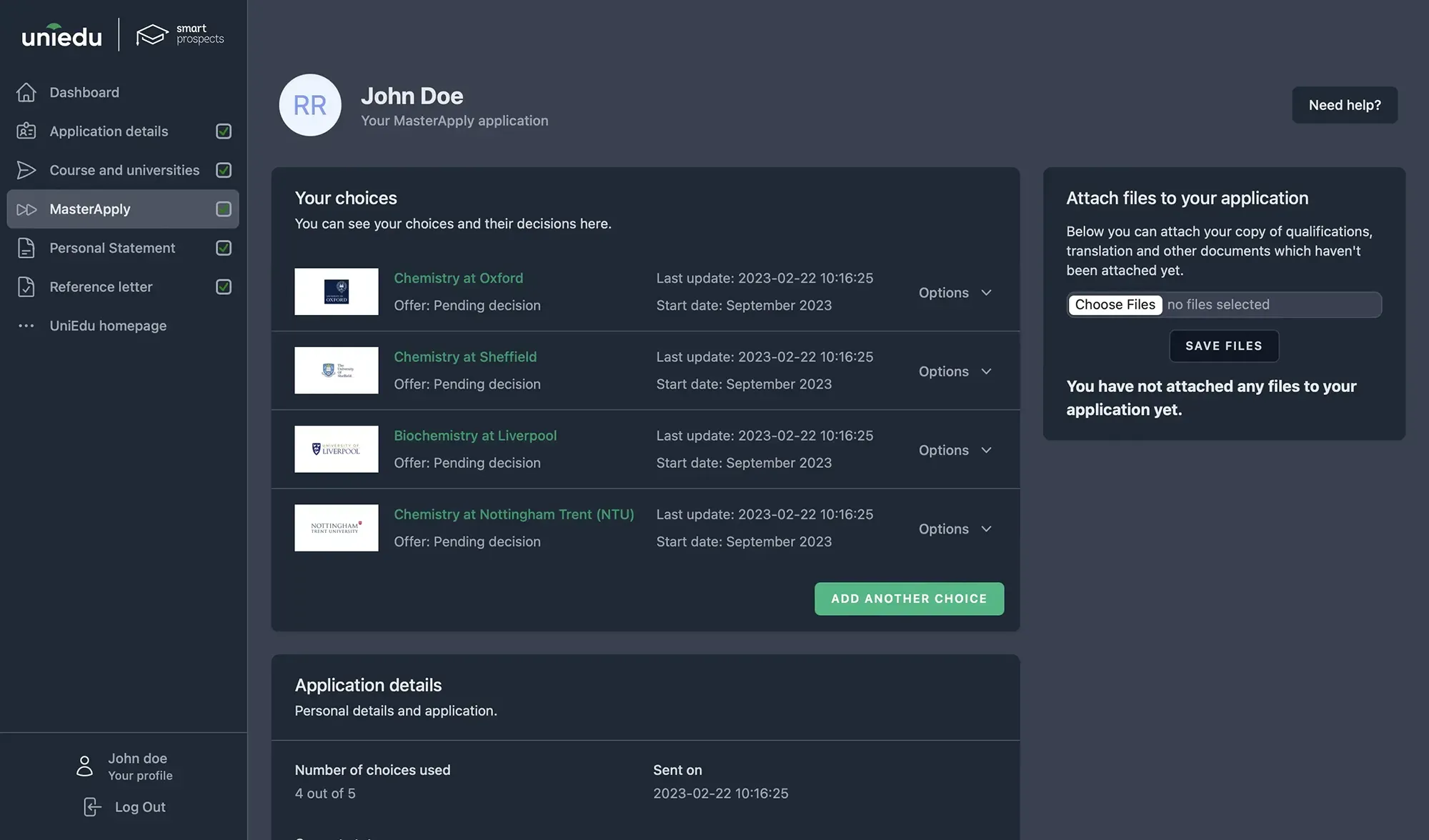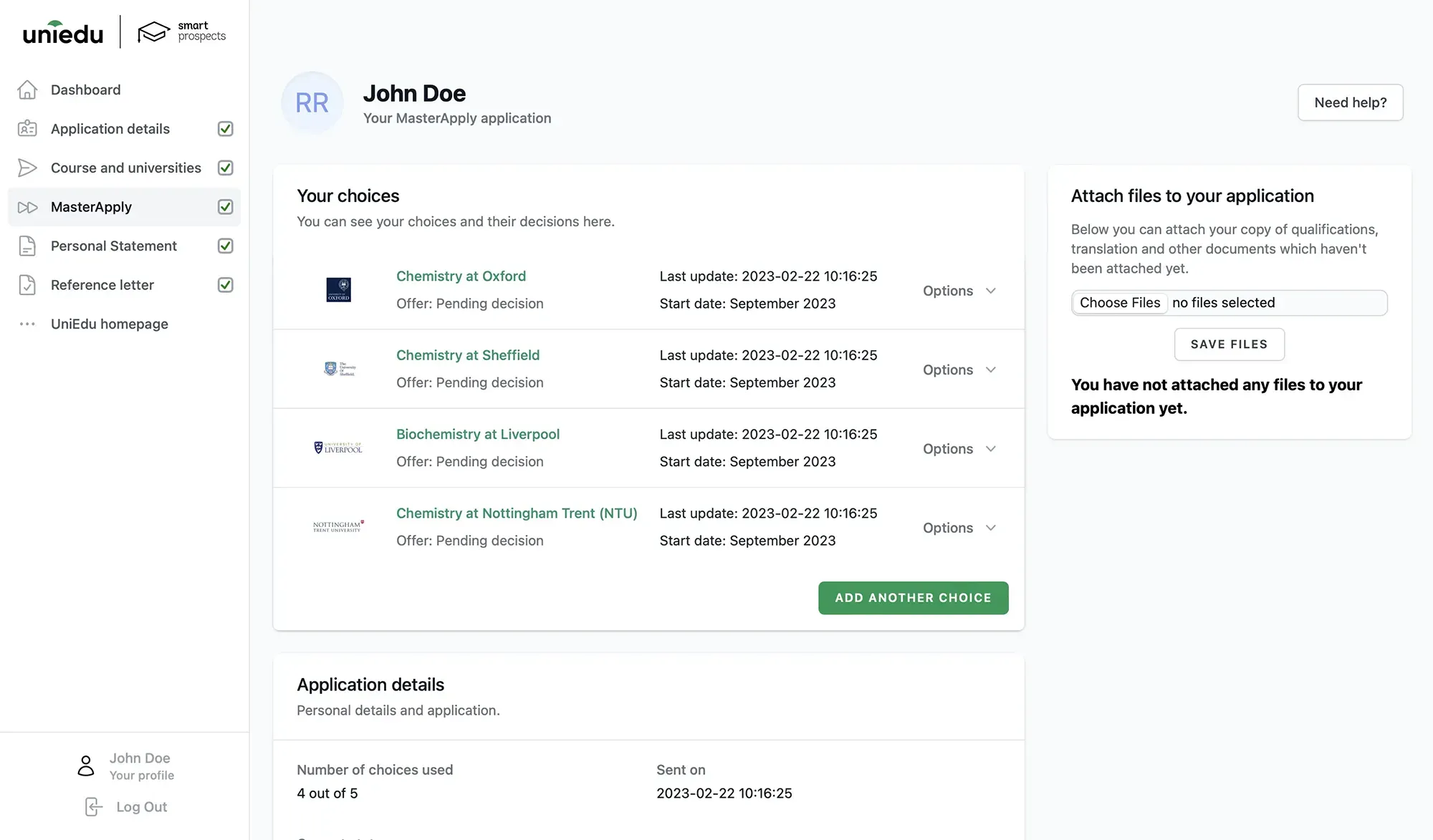 Testimonials
We have worked with thousands of amazing people